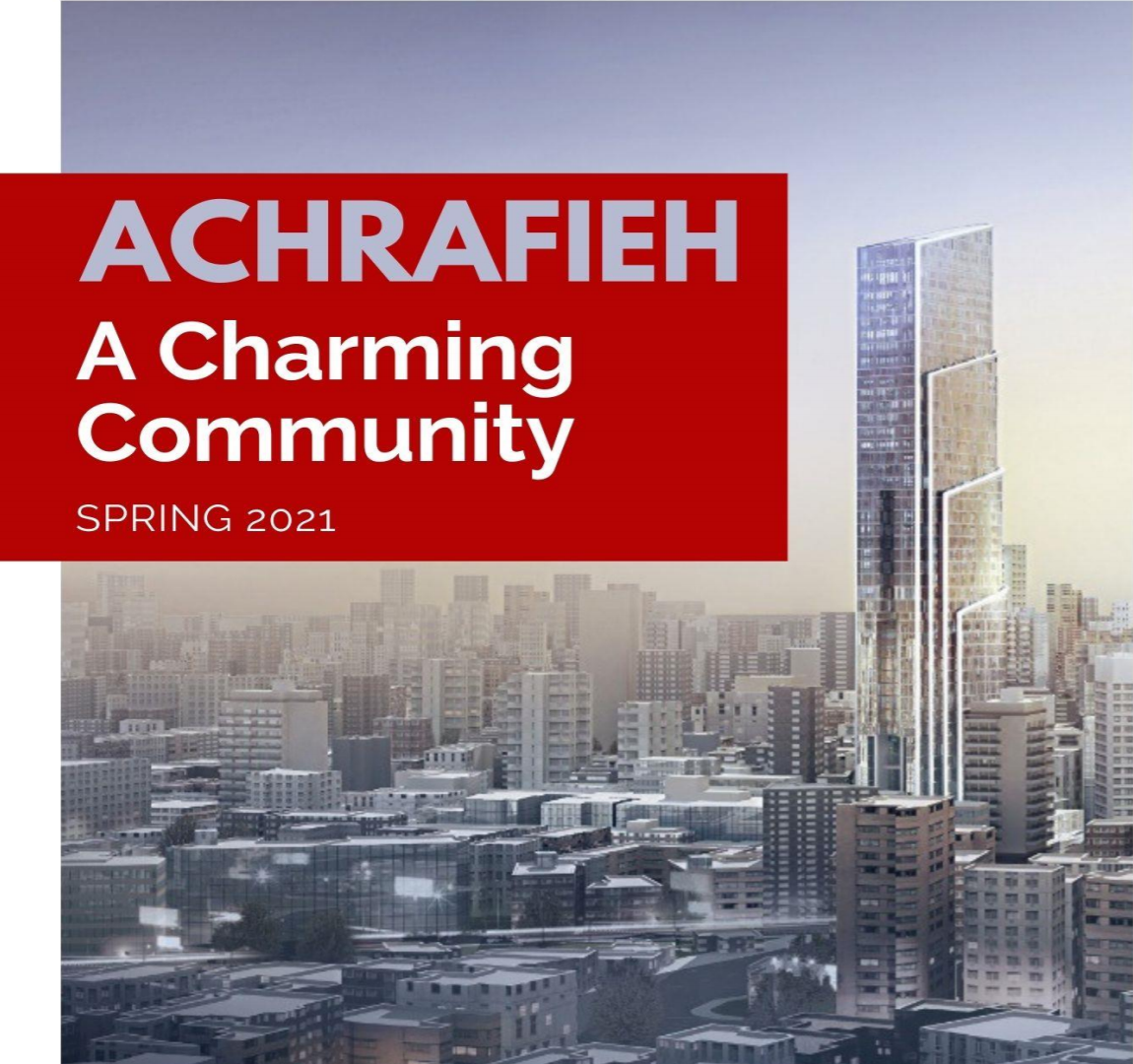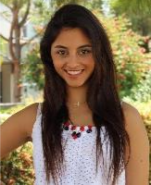 Engineer Maura Azar holds a Bachelor Degree in Civil and Environmental Engineering from Notre Dame University, Louaize, 2020. She has gained experience from previously done internships in Lebanon and abroad. She is currently the Project Engineer with Springsfield Development S.A.L on KLEOS, residential towers project, in Achrafieh, Lebanon. Engineer Azar has published different research papers on the Real Estate Economy in Lebanon, specifically in Achrafieh.
Inspiration, motivation, and hard work have always played a key role in the success of any project. Therefore, I would like to express my utmost gratitude to some important people that have inspired me and motivated me throughout my work
First, let me thank my mentor, Eng. Abdallah Hayek, for his guidance and encouragement. I am immensely grateful to all the efforts that he made, and for granting me the opportunity to deliver such an interesting project.
Also, let me express my appreciation to Springsfield Development S.A.L for providing me with all the necessary support to accomplish this work. Being the developers of KLEOS project, they also helped me with all the data that is needed to give all the right details. Without their constant assistance, this report wouldn't have been the same.
I would also like to thank Ms. Sara Lee Habchi for her constant follow up on this report. If it weren't for her impeccable management skills and dedication, I wouldn't have been able to deliver this report on time.
Lastly, I cannot but mention Mr. Jeremy Tawedian and Ms. Rita Camilos, as they had a fair share in this report. Their editing skills are what made this report pleasant to the eye, and free of any mistakes.
I truly feel blessed to have worked on this report alongside an amazing, dedicated team, who supported me and stood by my side in every possible way in order to complete this report.
Achrafieh! A word that can be pictured in scenes, a center-point for all tourists visiting this beloved country, a monument of national history, a home for more than 20% of the Lebanese population. Simply said, Achrafieh, is the 'Heart of Lebanon'
The word Achrafieh is originated from the Arabic language and means 'a high point that overlooks the lands below it'. It is said that the name was assigned to this city due to the nature of its geological formation, as it includes the high plateau located to the east of Beirut, which oversees the city alongside the seashore.
Achrafieh is one of the oldest districts in Beirut. It is both a residential and a commercial area, characterized by its narrow tree-lined streets, the luxurious office buildings, and spacious apartment complexes. This prime area is home to contemporary projects and spaces, as well as a number of historical Western and Oriental architecture.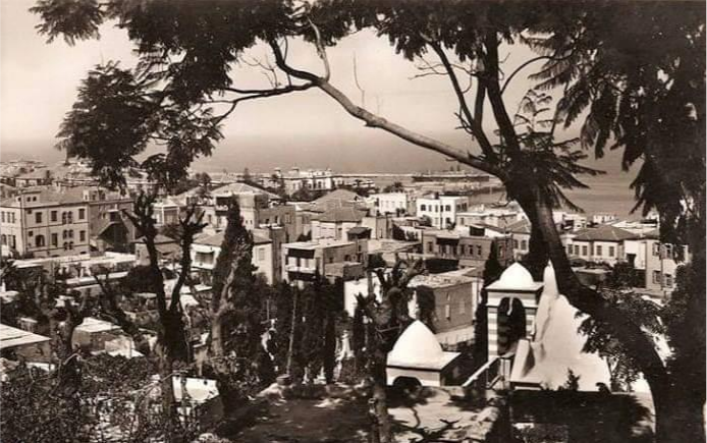 Figure 1: The Port of Beirut view from Sioufi (1911)
The city has always been an art hub, jam-packed with galleries, graffiti, colorful outdoor murals and painted stairs. Visitors will find a multitude of lavish boutiques, hotels, and apartment rentals, not to mention that the city is a key location for investments. Achrafieh simply feels like home.
Achrafieh has a total area of around 5.3M m2, divided into 4 main regions: Achrafieh, Rmeil, Mdawar, and Saifi as shown in the pie chart below (Figure 2). It inhabits around 650 thousand citizens, of varied religious communities. In fact, Beirut is known to be one of the most religiously diverse cities in the MENA region, as it has a total of 17 recognized confessional groups.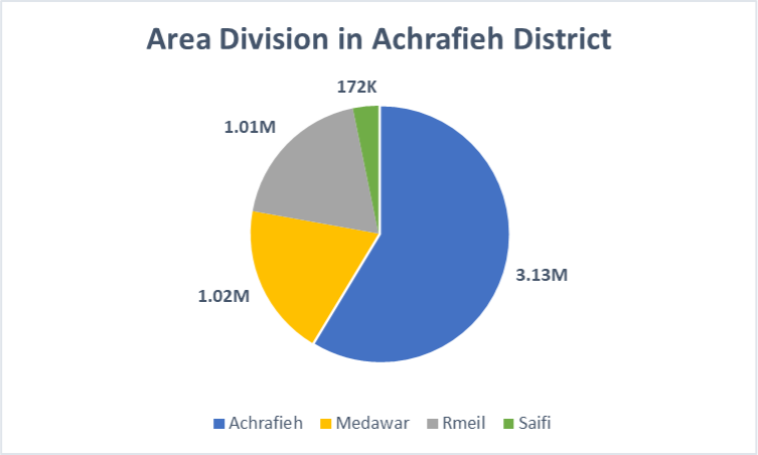 Figure 2 - The area of Achrafieh divided over the 4 Regions: Saifi, Rmeil,
Medawar, and Achrafieh. (Ref: Hayek Group)
As for life in Achrafieh, it is guaranteed to hold some of the most vigorous and fascinating communities in Lebanon. Achrafieh has been predominantly owned by several Greek Orthodox Christian families for several centuries. The same people have been ruling the country and the region until the 1930s. However, under the French Mandate, the Lebanese government partitioned the land to build roads and highways, which pushed families to sell great shares of their property and move to the suburbs. Beirut's high society was composed of seven socially and financially reputable Christian families, which are Trad, Ferneini, Araman, Bustros, Sursock, Fayyad, and Tueini. While the most active families were Hayek, Dagher, Hasbani, Merhie, Pharaon and others.
The Hayek family used to own most of the Achrafieh territory, spreading in the area of both Furn el Hayek zones, 'el tehtene' and 'el fou'ane'. It was mostly planted with blueberries. It also included 2 silk factories. Plus, the Hayek family owned 2 bakeries under the name 'Furn el Hayek' to feed the fleet of workers in the silk weaving factories. The Sioufi area was named based on the Sioufi family in their wooden factory's surrounding.
Knowing the high influence of the Christian community on the district, the presence of over 30 churches in its streets is understandable: St. Nicolas Greek Orthodox Church, St. Dimitirus, St. Anthony the Great Convent, Lady of Annunciation Greek Orthodox, Lady of Assumption, among others.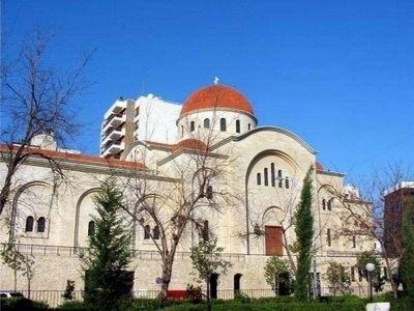 Figure 3 - St. Nicholas Greek Orthodox
Church - Achrafieh.
Figure 4 - Good Friday at St.
Dimitrius Church – Achrafieh
There are also some notable people who resided or are currently residing in Achrafieh that made history. We can cite former Lebanese President Bachir Gemayel, who was born in Achrafieh, Michel Sassine, a Lebanese politician and MP of the district of Beirut from 1968 till 1992, Gebran Tueini, former editor and publisher of the daily paper An-Nahar, Khaled Mouzanar, a world-renowned composer, Joe Kodeih, a writer, actor, and director, Samir Assaf the CEO of HSBC Global Banking & Markets, and Carlos Ghosn, former CEO of Nissan.
Furthermore, Achrafieh's charm resides in its neighborhoods: Sassine Square, the political, social and commercial center point of the Lebanese capital, St Nicolas street, where one can find iconic buildings like the Sursock Palace, Sursock Museum, "Centre Sofil", the
Ivory building, the Tabaris area and Abdel Wahab street, Fassouh street which was named after a lady from Aley who was the only one to sell fresh dairy products, and many others displayed in figure 5 below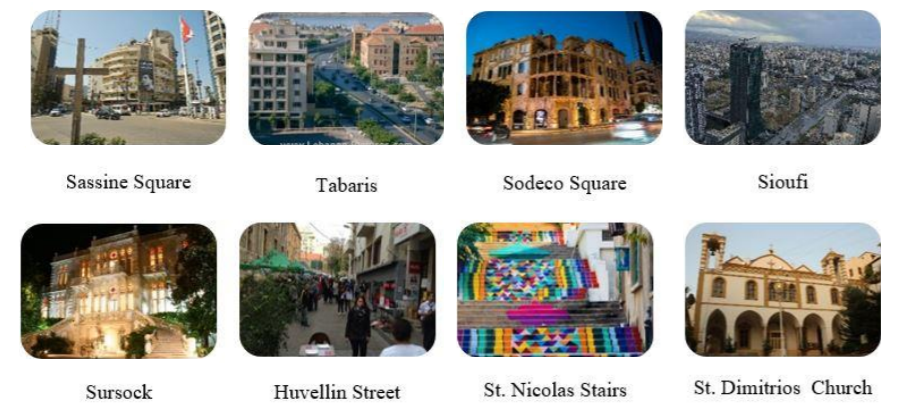 Figure 5 - Prominent Locations in Achrafieh.
And how could Achrafieh survive without all its medical centers, active daily to provide medical and surgical care. Some of those medical centers are affiliated with medical schools like LAU Medical Center – Rizk Hospital, University of Balamand – Saint Georges Hospital University Medical Center, The Lebanese University – Hospital Geitaoui, and Saint Joseph University – Hotel Dieu de France, Hopital des Soeurs du Rosaire – Gemmayze, and many more.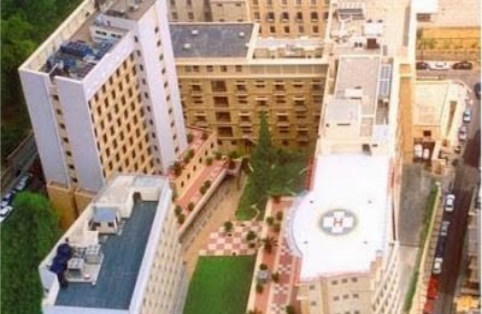 Figure 6 - LAU Medical Center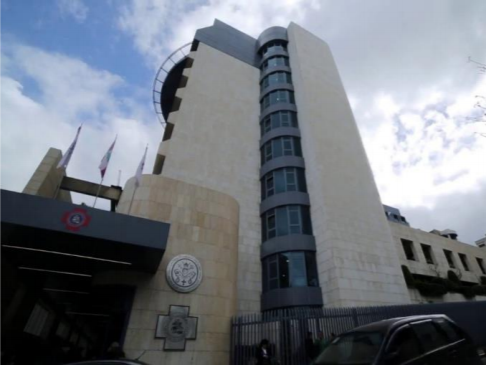 Figure 7 - Saint Georges Hospital.
Achrafieh is also known for its luxury, with prestigious hotels including: Albergo Hotel, Royal Tulip Achrafieh Hotel, Sofitel Beirut, Le Gabriel, Alexander, ParkTower Suites, The Key Beirut, etc.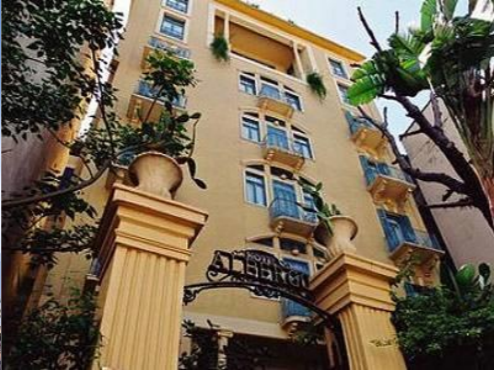 Figure 8: Albergo Hotel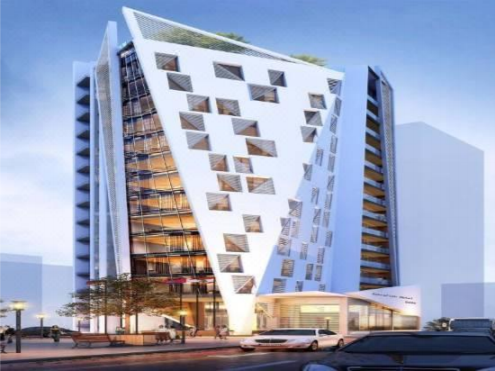 Figure 9: Royal Tulip Hotel
However, all those buildings, infrastructure projects, and commerce shops are nothing without the people of Achrafieh. A lady named Viera published a blog about her visit to Lebanon. She professed that she did not speak the Arabic language, despite taking some courses. But what really helped her learn the culture and language was the interaction with locals as she wandered in the streets of Achrafieh
She said: 'They would be sitting on plastic chairs in front of their buildings or shops, playing cards or backgammon and sipping "ahwe" (an Arabic word for coffee), and you'll notice how they are eager to talk to you, to just say hi and ask you how you are, inviting you to have a coffee with them". The kindness of the people here overwhelms its visitors. She encourages all her readers to visit this city even if they don't speak the language, because she believes that the people here will use whatever foreign vocabulary they might know to try and make you feel at home. Finally, she states: "Achrafieh gives you a truly heartwarming and unique feeling that makes you feel like you are in a small village where everybody knows you, despite being a stranger in the capital of Lebanon."
FACT: The cultural capital of the Arab world is Beirut. In its neighborhoods, Achrafieh, Saifi, Rmeil and surroundings, you will find a multitude of traditional, artistic, and intellectual activities.
The Monnot District, home of the prestigious Saint Joseph University and its iconic theater, reminds us of the charm of the Quartier Latin in Paris. Also, the Sursock Museum cannot be passed unseen, a prime location for contemporary art enthusiasts. Some major touristic destinations in Achrafieh include the National Museum of Beirut, the Sursock Palace, the Sassine Square, ABC Mall, "Villa Audi", and others.

Figure 10: The interior of the Sursock Palace
Every country has their own set of traditions, and Lebanon is no different. Social norms and customs have been passed by from generation to generation. Of course, some of those traditions faded away, but their essence is still here. For instance, it is very common to be offered coffee in the neighborhoods of Achrafieh by citizens sitting in front of their buildings or stores. Also, as per Lebanese tradition, you are always supposed to leave a sip of the drink offered by the host. This is referred to as 'imet el kebbeyye' (lit. the value of the cup), to show exactly what you were drinking. Also, since the people of Achrafieh are traditionally generous people, they have an unwritten social rule that one must take sweets, fruits, or takeaway food in hand while visiting a relative or an acquaintance. On the other hand, 'diyafe' is always offered to guests in return. This is definitely not an obligation, but a gesture of kindness and respect to reflect the known hospitability of the country.
A famous tradition prevalent in the district of Achrafieh is the "knock on wood". When one mentions a virtuous thing happening, such as buying a new car, starting a new business, or even complimenting the traits of a loved one, knock on the nearest wooden object. This is done to prevent bad things from happening in return – to drive bad luck away. Plus, in Achrafieh, many families during lent season challenge themselves not to repeat the same food type twice. Some families even used to fast on all meals that require cooking on fire.
But regardless of whether old customs are compatible with today's world or not, they must always be remembered and cherished. Some of them make us laugh, and others just make us scratch our heads in bewilderment.
New York, Paris and London have colorful histories and distinct neighborhoods. Greenwich Village, Notting Hill or Montmartre trigger images and feelings of architecture, mood, history, and culture. However, Achrafieh, one of the eldest and most delightful neighborhoods in Beirut, predates those cities by thousands of years and surpasses their fascinating locations by its lively and enthralling neighborhoods and sea view. Historical monuments go back 5 centuries B.C.
The garden suburb style started emerging in Achrafieh in the 1850s, where buildings were separated by middle sized private gardens. This was the first development Beirut had witnessed at the time, which soon gave birth to real palaces on the hill of Achrafieh. The middle-class citizens were keen on beautifying the outer surfaces of their lands.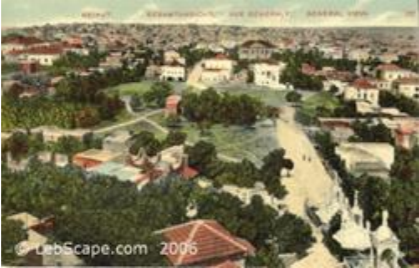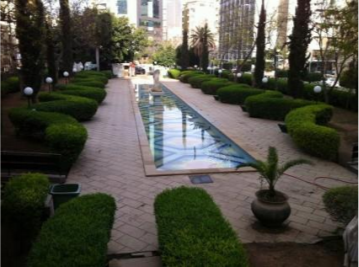 Figure 11: Garden suburb style in Achrafieh
Up until the early 1930s, most of the Achrafieh area was a farmland. During the Ottoman era, some historical texts described Achrafieh and its suburbs as "The farm", because of all the olive, strawberry, and other fruit trees that existed there back then. However, the agricultural character which illustrated the district, remained in some of the city's neighborhoods, such as "Karm el Zeitoun". Then, the Lebanese government ordered the partition of the land and the construction of highways and roads. Many families were forced to sell their lands due to this verdict.
Between the years 1945 and 1955, the progressive urbanization of Achrafieh was roaming. Issued permits increased tremendously from year to year, starting with 390 permits in 1945 and reaching 1261 permits in year 1955. The capital's construction area grew from 100,000 m2 to over 600,000 m2 . Moreover, residential neighborhoods were becoming increasingly dense, then gradually occupied all free spaces on the hills of Achrafieh. Later, in the 60s, avenues were built linking various public neighborhoods to one another.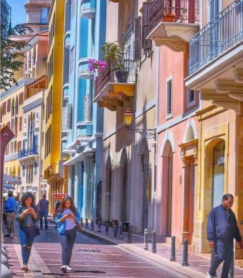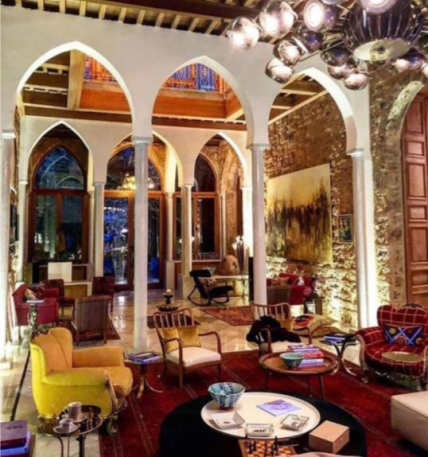 Figure 12: Old Charming Architecture
Decades later, with the outbreak of the Lebanese Civil War in 1975, Achrafieh converted into a major strategic base for Christian community. Throughout this war, bombs and rockets wiped out a considerable part of Achrafieh's architectural heritage, leaving behind some vestiges together and more modern structures. And as if this whole destruction was not enough, even after the war has ended, some demolition crews still tore down old historic homes and structures, replacing them with tall concrete towers, overshadowing the few artistic historical monuments left. Until today, archeological remains are still being found under new excavations, and heritage activists are trying their best to preserve the few old remains that hold not only sentimental value, but also economic viability.
It is difficult to identify and attend all art exhibitions that are held in Achrafieh throughout the year; several opening ceremonies take place weekly, or many emerging artists showcase their work simply in a café within the city or in a prestigious cultural center. As it is known, and has always been, in Achrafieh, everybody is served. Art is available for everyone, and in cases of local or global events, sometimes even the streets get invaded. For instance,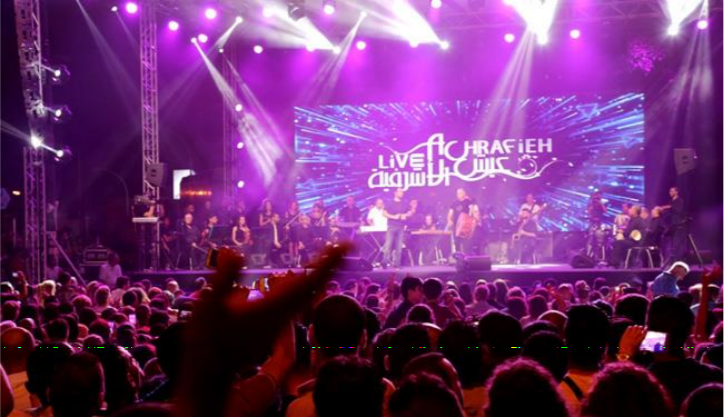 Figure 13: Music Event in Achrafieh
during the Music Festival, homegrown and foreign bands flood the streets. Even churches host classical concerts and crowds gather in public squares to enjoy different types of music such as oriental, rock, jazz, blues, pop, or others. Also, the Saint Nicolas Stairs in Gemmayzeh shape their own festival where passersby in surrounding streets are invited to wander around, taste beverages, check some artistic paintings and dance with harmony all over the location. A 28-year-old French expatriate, Mary, comments on her experience in the district: "I am from Paris and when I moved here, my friends told me that I was going to get easily bored; they think that cultural life in Beirut is much less lively than in European capitals. In reality, and relatively speaking, there are so many events here that sometimes I have to decide which one to attend, it's impossible to attend them all."
Regardless of all these festive events, art is being lived in Achrafieh every single day of the year. In fact, Saifi is known as the "Arts District". Different art galleries settled on the sidewalks of newly renovated streets with contemporary paintings, sculptures, and woodworking crafts. All of this gives Achrafieh a Bourgeois Bohemian Style. Some of the great art galleries to be visited in Achrafieh are 'Bekhazi Art Gallery for Contemporary Art', 'Gallerie L'Amateur for Antiquities' and '19th Century paintings', 'Vestiges D'orient Ateliers D'Arts', 'Camille Allam Workshop' in the Sursock Street, and 'Escalier de Saint Nicolas', which is the Middle East's longest stairway holding 125 steps showcasing local and international work. Not to forget all the great theaters located in Achrafieh, such as the 'Empire Sodeco' holding 6 theaters, 'the Empire Sofil' holding 3, and 'the Grand ABC' holding 7.
From the ancient Roman remains to the well conserved medieval times palaces, Achrafieh is popular for its ancient historical background. Also, knowing the location of Achrafieh, it has an exposure to the most fantastic sceneries, offering a spectacular view of the mountains and the sea. Moreover, tourists enjoy their time at Achrafieh for all the various and diverse activities that they can spend their time doing. In fact, foreigners who have been to Lebanon have a deep attachment to Achrafieh, and others who haven't visited this beloved country yet, have the curiosity to do so for what they have heard about the streets of Achrafieh. Architect Laurent LISE-CABASSET expressed his attachment to Achrafieh stating the following, "Gemmayzé, Mar Mikhaël, Achrafieh are names which resonate deeply with Beirut's inhabitants and the foreign visitors, who are in love with Beirut as much as I am. Their names are forever engraved in the city's long history and they are a home to an incredibly rich cultural tradition.
These districts house within their walls the tangible and intangible heritage which gives Beirut its unique character, shaped over the millennia, ever since the time of the first Phoenicians. This part of the city combines modern and contemporary architecture with older built heritage. It is this contrast, this urban palimpsest, which defines the identity of the city of Beirut and its rebirth following the end of the civil war. The palace and its vast surrounding gardens built in 1850, are one of its jewels, representing one of the last surviving vestiges of the Golden Age of Beirut in the 19th century and, undoubtedly, its most remarkable expression. The rehabilitation and the safeguard of the Beirut heritage, especially after the blast, is not only a Lebanese matter, but it also concerns the whole world. And I am very happy to participate modestly in particular with the European funds, RestART Beirut."
In the midst of a huge financial crisis and instability in the country, the real estate sector, on the other hand, experienced a sudden upturn. Depositors and international investors are recommended to devote in Lebanon at the time being as it is considered a golden opportunity. For instance, Achrafieh has forever been an attractive investment location in Lebanon. Its centralized location, historic coverage, artistic envelope, and active business sectors attract not only local business personas, but also global stakeholders. For example, Mr. Michel Pharoun, former deputy in the Lebanese Government said "Achrafieh has a lot of community services including hospitals, universities and business centers, which is great for the development of the district. Most headquarters of large businesses and commercial buildings are located within the city, making it an adequate region for investments. So basically, in Achrafieh, any investment is a win-win situation. You might not be able to make a lot of profit, but you will definitely not be at loss. Achrafieh is the beating heart of Beirut, and anything that might happen to the capital affects this district greatly. ore Lebanon. Traces of gas were found indicating the presence of a hydrocarbon system.
With time, it has evolved to become a prime city, and although it has lost its 'village' spirit, it is still a secure and safe place to be in, as Achrafieh people protect their hometown with their all.
And as the district's community and investments developed throughout the years, it spilled over other villages in the suburbs and gave them the opportunity to become leading locations for investments."
By the end of the 19th century, a rapid urban transformation hit Beirut. This alteration was driven by an economical growth that occurred due to the expansion of the Port of Beirut. With its strategic location on the Mediterranean as a transition point between Europe and the MENA region, the city was designated as a regional capital and benefited from the Tanzimat (1839-1876), a series of governmental reforms meant to modernize the empire and consolidate its social and political foundations. After that, additional rural expansion began.
Achrafieh has always been a hub for offices and major companies. Over a hundred office buildings are spread along its streets, and most of them have been there for more than 15 years. It also includes more than thirty banks and a dozen branches of financial companies. In addition to that, insurance companies and consulting firms take part in the middle of residential neighborhoods of the city.
In Achrafieh streets, personal and professional lives perfectly intertwine; from housewives shopping to employees making their way to their offices, to students returning from their classes or bank managers rushing to the headquarters of 'Rassemblement de Dirigeants et Chefs d'entreprises Libanais'.
This dynamism has always been a positive aspect of the city as it provides many job opportunities in various sectors: engineering, law, accounting, consultancy, secretariat, and others… Correspondingly, one of the most vigorous sectors in the neighborhood is the catering sector. Since tourists invade Achrafieh on a regular basis, pubs, cafes, and restaurants take up a lot of space in the city. Chefs and professionals in the field, as well as students are always being recruited. These jobs help students earn more money and therefore, financially contribute to their studies and personal expenses. While keeping a dominantly residential trait, the neighborhood has a significant commercial style during the day and a lively nightlife economy.
Small shops, stores, and businesses still give the area an exciting atmosphere despite the presence of major retail stores and companies headquarters. While gradually disappearing from the industrialized world, these small trades, such as hairdressers' salons, beauty salons, and other fashion stores, are still numerous in the streets of Achrafieh. For instance, women of Achrafieh have always been described as 'coquettes', having all kinds of beauty products and using them in their daily routines.
Small butchers, bakeries, and grocery stores are still very present, providing residents with all their goods for dozens of years now. In fact, those stores are always chaotically but joyfully stacked with various merchandise, and outside lays a display of seasonal fruits and vegetables. However, Achrafieh, being a major touristic destination in the Lebanese capital, has given large supermarket chains and shopping centers a certain prestige. Several malls are located in this area such as ABC Mall branch near Sassine Square, the 1990s Sodeco Square which holds a wide range of shopping and commercial facilities, and the Independence Avenue to name a few.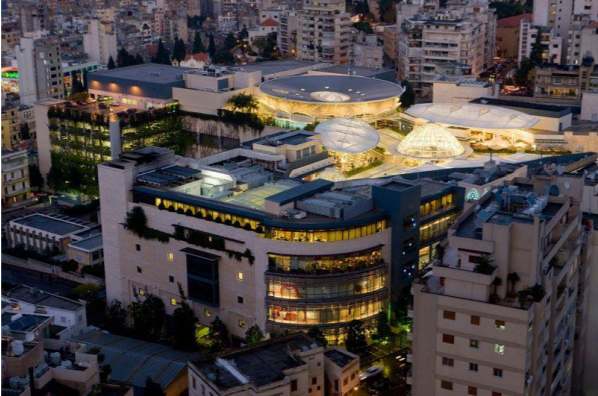 Figure 14: ABC Achrafieh
Furthermore, many fashion designers have located their workshops and showrooms in this area. Why Achrafieh? Because it is considered to be the heart of Beirut with an authentic, simple, and elegant character all at once. Its visitors have a taste for fashion, novelty, and style. Although the zone was considered calm and serene a few years back, its strategic position predicted the potential economic boom that the district had experienced, which made it a sector that can only flourish. Likewise, jewelry and furniture originators with a combined taste of modernism and oriental traditions are found in the city.
Everything was good up until the last quarter of 2019. On another note, no one can disclaim all the tragedies that have hit Lebanon in the past year, especially Beirut. 2020 was literally a heartbreaking year for this precious country.
For centuries, Lebanon was known as the safest country in the Middle East for tourists and citizen. However, with all the chaos, corruption, and disasters, 2020 has proven this beautiful image extremely wide off the mark.
Starting October 2019, protests began to rise in the streets of all major cities around the globe, roads were blocked for over weeks, and people left their workplaces to express their beliefs and hopes. Lebanon, the paradise on Earth, turned into an abyss.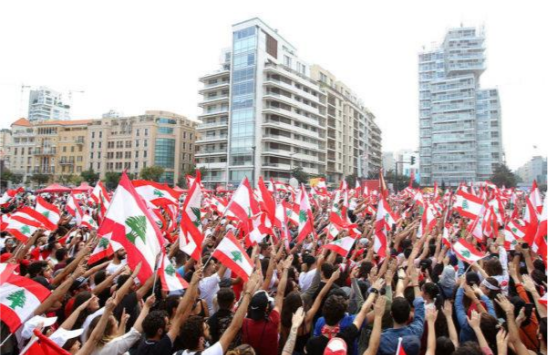 Figure 15: Protests during the Lebanese Revolution in October 2019
After all the instability and insecurities in the country, the Lebanese Lira deteriorated remarkably and is still losing its value until today. Protests amplified with time, until March 2020. As if all that has been happening was not enough, a global pandemic, Covid-19, hit the world. Our whole lifestyle has been forever altered: sanitizing all around, sterilizing every surface, covering our faces with masks, and being trapped in unending lockdowns... It was a whole new world, a world of fear from the close ones as much as strangers.
With all the crisis adding up, an unexpected event happened, shaking the country, and turning the Lebanese capital into ashes: the August 4 Beirut blast. This disastrous explosion took at least 206 lives, injured over 2,000 individuals, and left out more than 300,000 families homeless. 8 months through this catastrophe, nothing has been done. No solution has been found nor implemented, not even a plan was put. Lebanon is basically suffocating under the heavy burden of ongoing crises.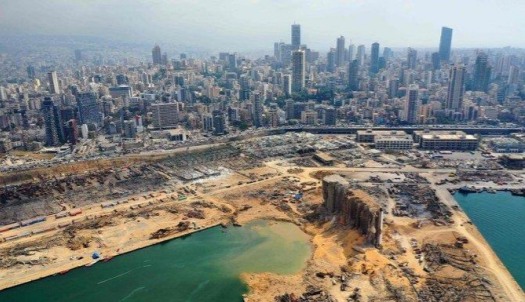 Figure 16: Beirut Blast in August 2020
Today, the congested cities and streets of Lebanon barely breathe, seeing a couple of side walkers passing through. This has also negatively impacted the construction sector in Achrafieh, where major guiding projects have stopped development and progression, awaiting better circumstances to advance, if existing. This situation has tremendously affected the real estate market, through buying residences in the suburbs of Achrafieh, or selling properties in Achrafieh and Beirut.
The beauty of Achrafieh has been slowly fading away, especially with all the protestors ruining ornaments and stations out of frustration and defeat. However, we do believe that this situation is not going to last. Forever have Lebanese people been sturdy and bearing. After every fall, they come out stronger, full of hope and life.
As it is well known, Achrafieh is considered one of the most prime locations for property investments in Lebanon. In addition to all the major touristic destinations and commercial places, Achrafieh has maintained a business sector like no other over the years and has turned out to become one of the most important cities for business establishments and headquarters. Therefore, with all the renewed interest in Achrafieh, the real estate market has revived with property developers still holding many unsold properties in their stock.
An investigation was done on all lands and plots in Achrafieh, figuring out all areas that are sold, up for sale, or under construction. The graphs below show the exact classification divided by Eng. Abdallah Hayek.
Based on a study held in Achrafieh District, over the regions of Achrafieh, Rmeil, Medawar and Saifi, there are only 207 lots still available, distributed over 10 zones, covering an area of 120,463 m2 and costing a total of almost $1.2B. In Achrafieh map G4 there are 23 vacant lots in zone 3. In Achrafieh G5, there are 53 vacant lots in zones 3, 4 and 5 whereas in Achrafieh G6, there are 41 lots in zones 4, 5 and 6. For Achrafieh H4, 10 lots are available in zone 2, in Achrafieh H6, 2 lots in zone 2 and in Achrafieh F5, 15 lots for zone 4. For Rmeil G5, 4 lots are accessible in zones 3 and 4 and in Rmeil H5, 16 lots are offered in zones 3 and 4. In Rmeil H6, 22 lots are available in zones 4 and 6. And finally, in Saifi there are 21 lots in zone 2. With these being said, all lands of Achrafieh District would have been covered and surveyed. Moreover, Graph 1 below shows the total area of the lots still available in every zone with their corresponding total cost. Graphs 2, 3, and 4 show the average cost/m2 in every region and the average cost per lot and the average area of a lot in every region.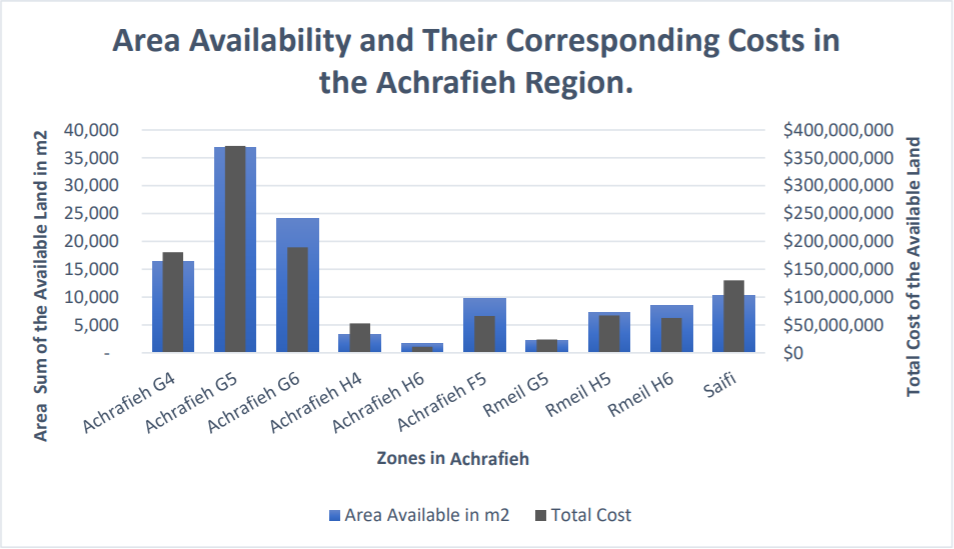 Graph 1: Area Availability and Their Corresponding Costs in the
Achrafieh Region - Hayek Group 2021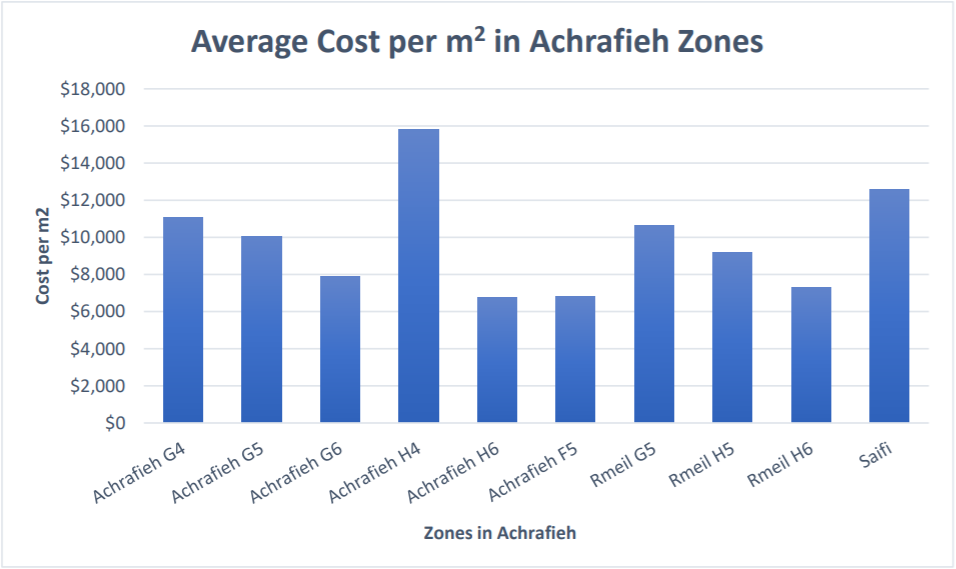 Graph 2: Average Cost per m2 in Achrafieh Zones - Hayek Group 2021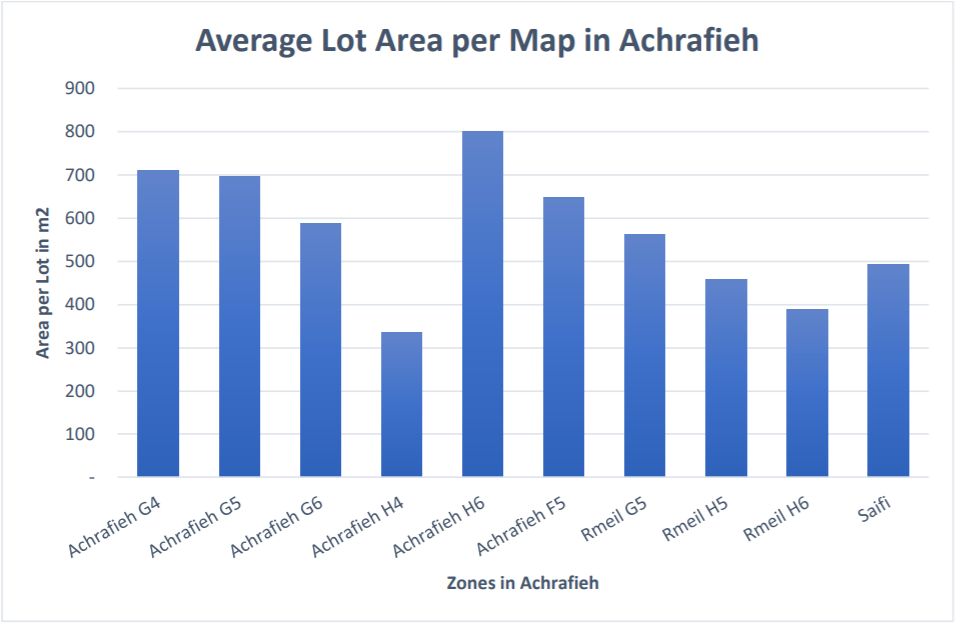 Graph 3: Average Lot Area per Map in Achrafieh - Hayek Group 2021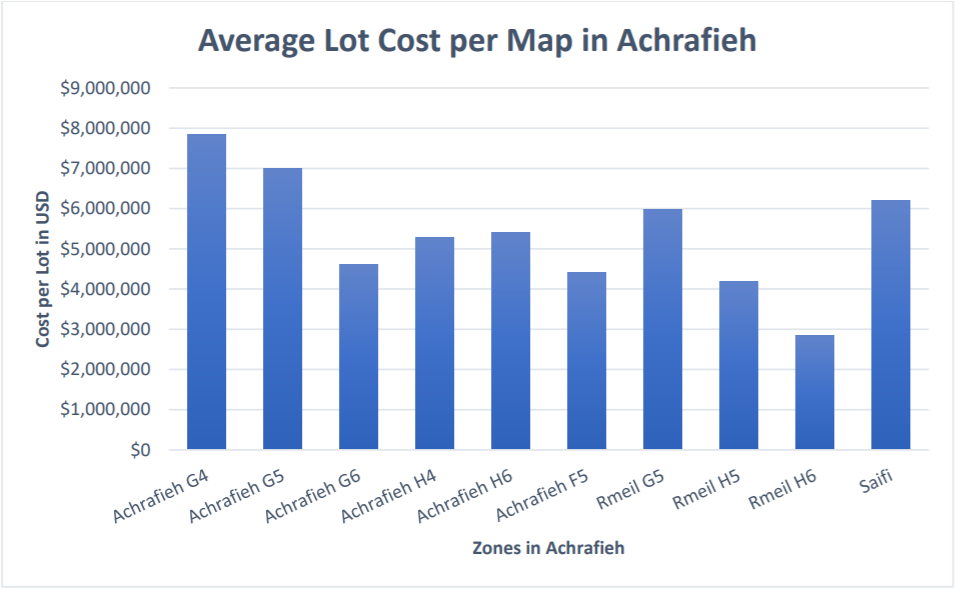 Graph 4: Average Lot Cost per Map in Achrafieh - Hayek Group 2021
In Achrafieh, the Real Estate Market has always been a go-to escape, through the good times and bad times. Lending to real estate and construction might not seem a good idea in times of crisis, instability, and unsteadiness. However, real estate transactions rise the most during these days. Another advantage that makes this market shine even more is the ownership of properties by foreigners. The ability of possessing a land in this country, even without being a citizen, enhances the marketplace and the request on areas. This aspect and the high demand rate on lands from foreigners also triggers the feeling of belonging for Lebanese, which gets them attached to their properties and invites them to buy more of them, if possible.
In addition, the activity of real estate was studied over the past 10 years in Beirut. All sales operations, with their corresponding sum of major taxes are shown by month in the graphs below. What clearly shows is the correspondence between both graphs, the sales transactions, and their taxes summations. As one increases, the other follows, since these two data are dependent on one another. Moreover, during the last year, regardless of the fluctuations that occurred, 2020 has proven to be the year with the most sales operations and highest taxation summation for over 10 years.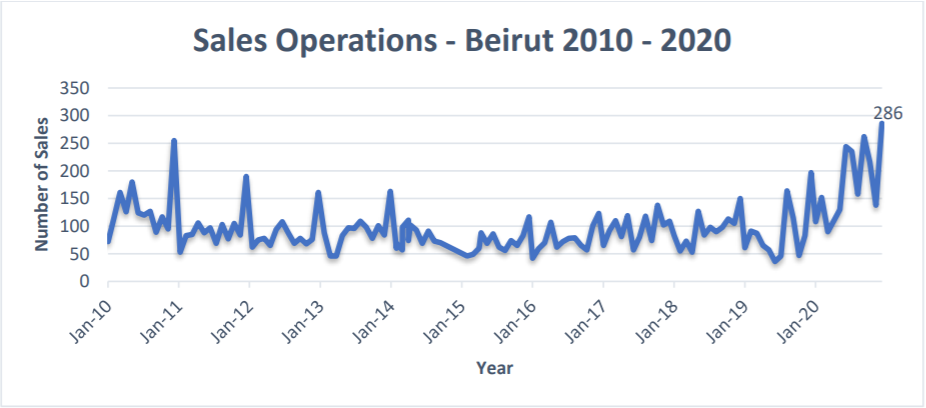 Graph 5: Sales Operations in Beirut from 2010 to 2020 - Hayek Group 2021 (Source: DLRC)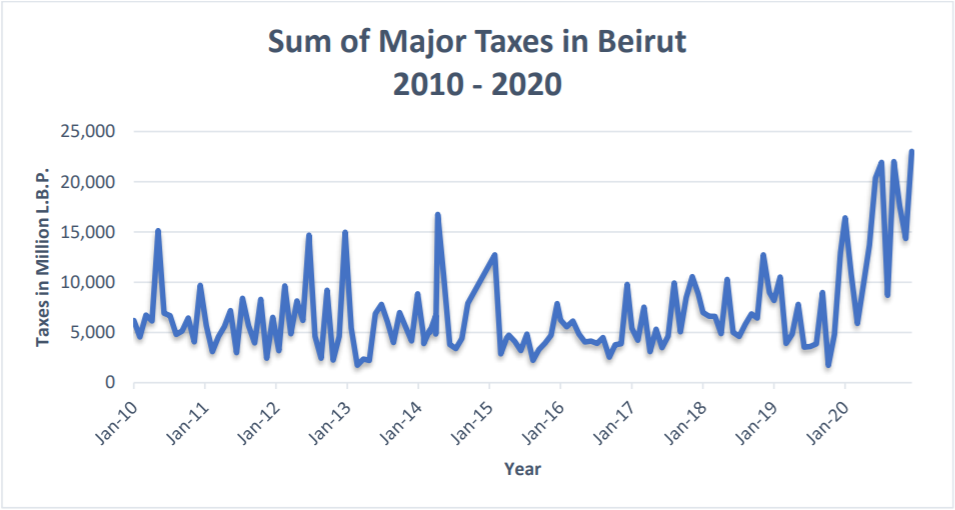 Graph 6: Sum of Major Taxes on Sales Operations in Beirut
from 2010 to 2020 - Hayek Group 2021 (Source: DLRC)
In addition to that, the graphs below show the exact variation of the adjusted average of inflation for home sale prices between 1971 and 2020, along with the yearly percentage of increase and the housing price to rent ratio variations.
The adjusted average of inflation for home sales prices between 1971 and 2020 harshly increased from $177,000 to $375,000, after having varied over the years with a maximum increase of 8% and a decrease of 13%, as it is shown in graphs 7 and 8, respectively. Also, the sales to rent prices ratio for houses varied between 1 and 1.6 as shown in graph 9.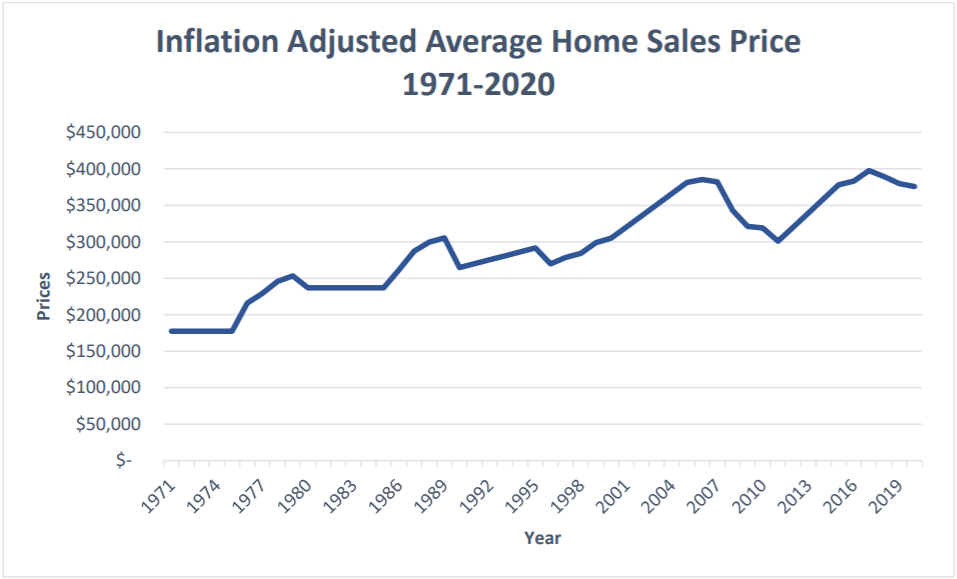 Graph 7: Inflation adjusted average home sales price from 1971 to 2020(Ref: Sweet, J. S.
(2020, October 6). Timeline: History of the Housing Market Over the Last 50 years. The Simple Dollar.)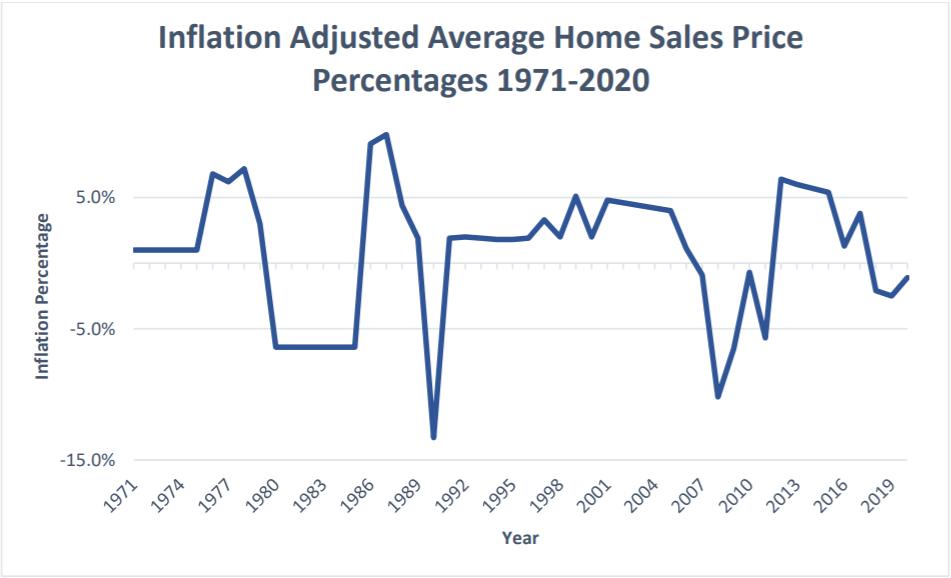 Graph 8: Inflation adjusted average home sales price percentages from 1971 to 2020(Ref: Sweet, J. S.
(2020, October 6). Timeline: History of the Housing Market Over the Last 50 years. The Simple Dollar.)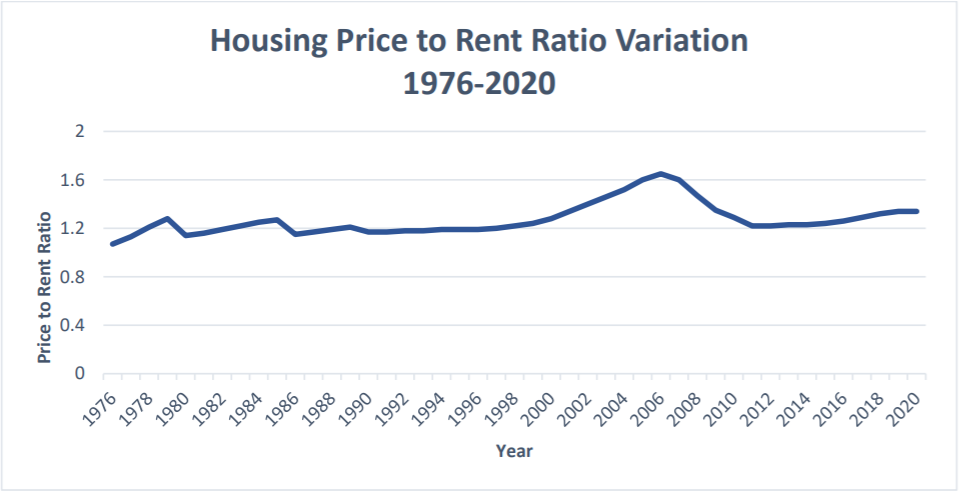 Graph 9: Housing Price to Rent Ratio variation from 1971 to 2020 (Ref: Sweet, J. S. (2020, October 6).
Timeline: History of the Housing Market Over the Last 50 years. The Simple Dollar.)
Moreover, a study has been carried out using data published by the Order of Engineers and Architects for the number of housing permits executed per region and throughout the years in Achrafieh, as well as for the execution orders and the new building licenses. Primarily, for housing permits, in the past 10 years, a total of 2,625,332 permits were executed in the district, distributed over Achrafieh, Rmeil, Saifi, and Mdawar regions as shown in graph 10. The division of those permits by year is shown in graph 11 where we can notice a major decrease in year 2018 and expect a downturn in the market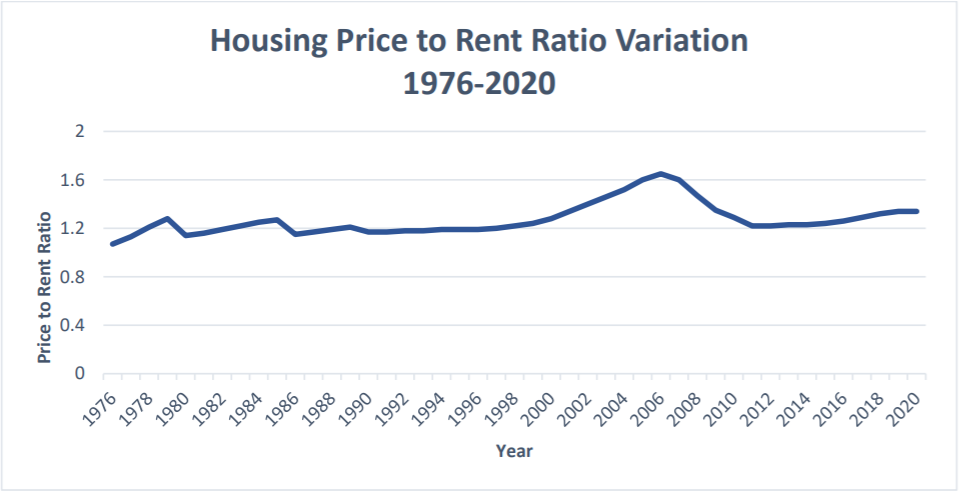 Graph 9: Housing Price to Rent Ratio variation from 1971 to 2020 (Ref: Sweet, J. S. (2020, October 6).
Timeline: History of the Housing Market Over the Last 50 years. The Simple Dollar.)
Moreover, a study has been carried out using data published by the Order of Engineers and Architects for the number of housing permits executed per region and throughout the years in Achrafieh, as well as for the execution orders and the new building licenses. Primarily, for housing permits, in the past 10 years, a total of 2,625,332 permits were executed in the district, distributed over Achrafieh, Rmeil, Saifi, and Mdawar regions as shown in graph 10. The division of those permits by year is shown in graph 11 where we can notice a major decrease in year 2018 and expect a downturn in the market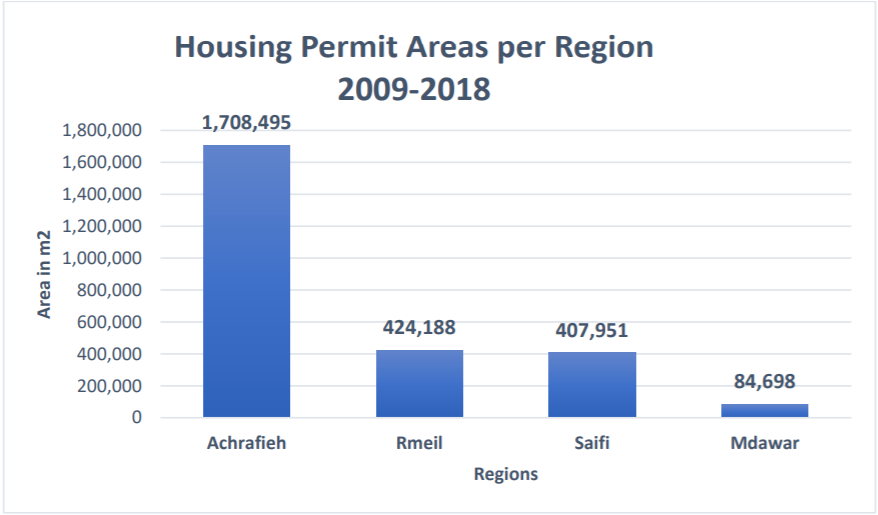 Graph 10: Housing Permit Areas per regions between 2009 and 2018 - Hayek
Group 2021 (Source: OEA)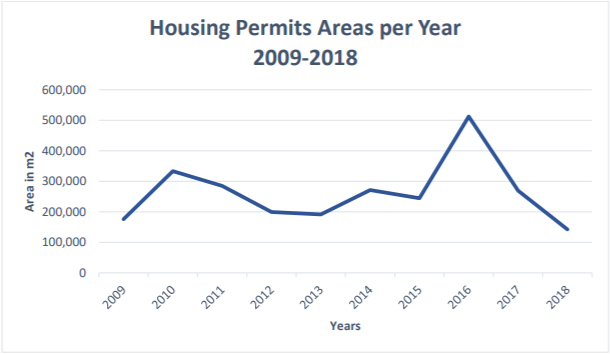 Graph 11: Housing Permits Areas per year between 2009 and 2018 - Hayek
Group 2021 (Source: OEA)
Second, a total of 2,132,693 permits were issued in the district, distributed over Achrafieh, Rmeil, Saifi, and Mdawar Regions for the past 10 years as shown in graph 12. The division of these permits per year is shown in graph 13, where we can similarly notice a decrease until year 2019 and expect a downturn in the market.
Graph 12: New Building License Areas per Region between 2009 and 2019 - Hayek
Group 2021 (Source: OEA)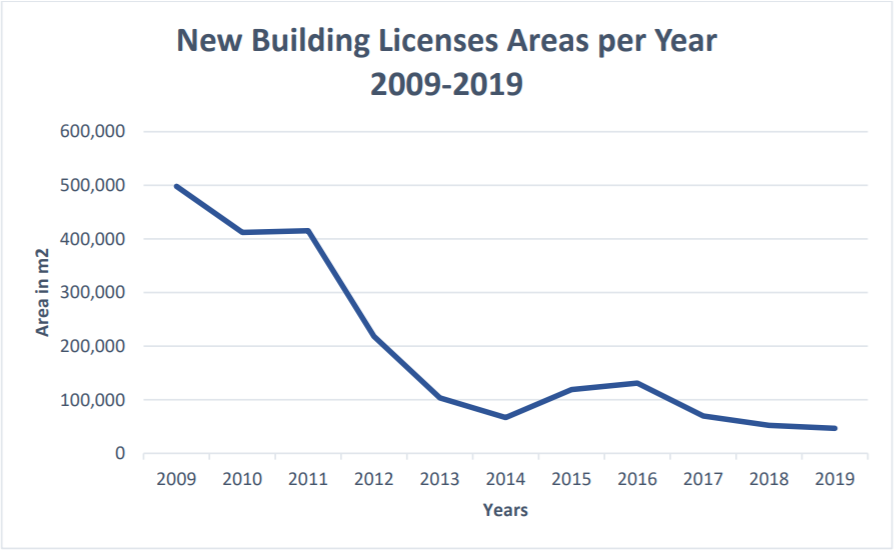 Graph 13: New Building Licenses Areas per Year between 2009 and 2019 - Hayek
Group 2021 (Source: OEA)
Third, the 1,151,122 execution orders in Achrafieh are studied, distributed over the 4 regions of Achrafieh in graph 14. As shown in graph 15, the number of these orders witnessed a decrease between 2009 and 2018, and no further changes are expected in the coming period.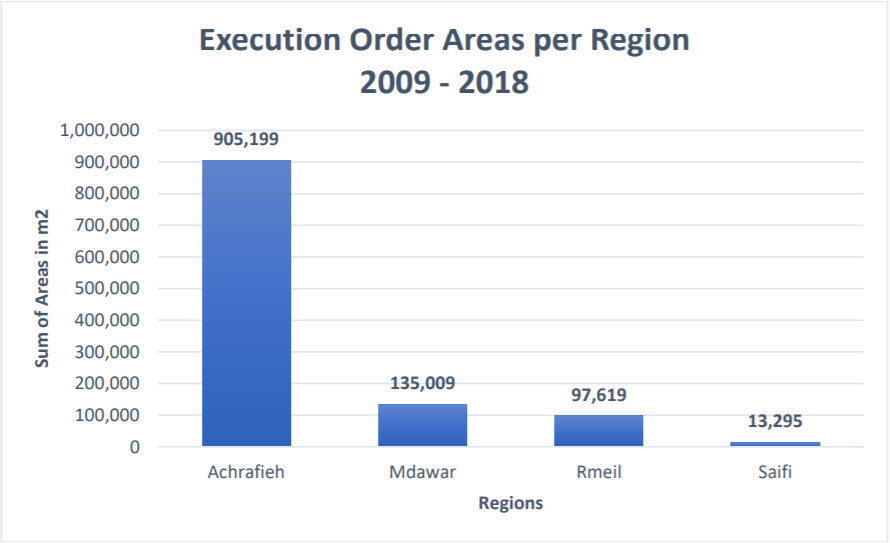 Graph 14: Execution Orders Areas per Region between 2009 and 2018 - Hayek
Group 2021 (Source: OEA)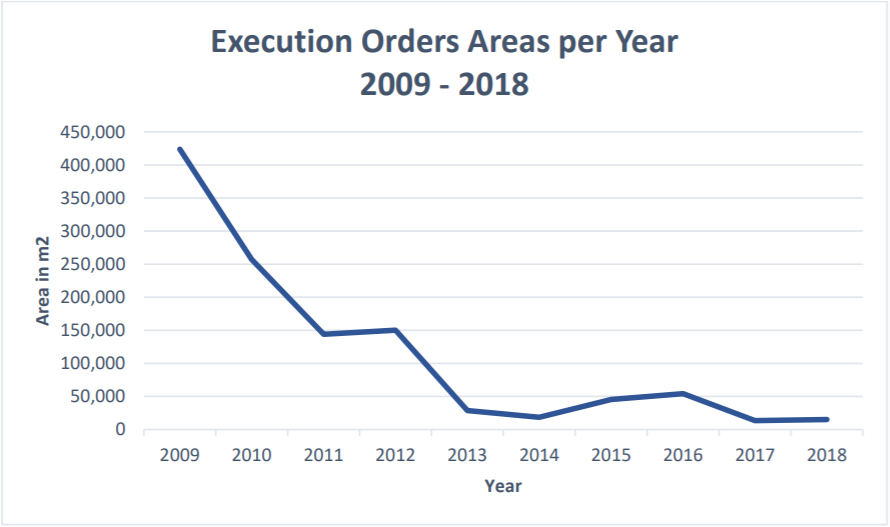 Graph 15: Execution Orders Areas per Year between 2009 and 2018 - Hayek Group 2021
KLEOS is situated in the heart of Achrafieh, near ABC Mall. It is a high-end typical residential project for Achrafieh families, consisting of 2 towers, providing all required amenities, and built on the concept of small units. It has a built-up area of 10,000 m² above ground and 5,000 m² below. This project is second to none in the area, not in its concept nor in its design, and can be accessed from all directions.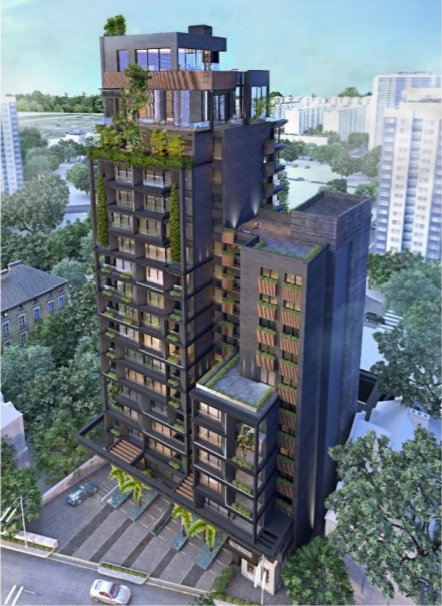 Figure 17: A Perspective View of the KLEOS Project
The two towers are joined by a royal ground floor entrance that provides access to seven elevators and is enclosed by a glowing landscaping. It also conveys a traditional Lebanese vibe, with all the relevant features embedded in the eastern area. It has maintained the historic feel by the use of sandstone from old houses that was previously built on its plot.
Their architecture is intended to secure total privacy for around 70 families forming a new community within the original one.
Within the towers, there are also clubs, fitness centers, beauty salons, swimming pools with changing rooms and showers. Parking lots and caves are also available in all 5 basement floors, in relation to the apartments. In addition, the project is situated in a position close to common workplaces in Beirut and it fits the different social requirements of citizens and displaced people. Environmentally speaking, studies for KLEOS adopted the most up-to-date US and EU standards of touchless technology and renewable energy.
To sum it all up, Achrafieh is a district that holds history, customs, richness, and a very bright future. Despite all the hardships that this district has faced, Achrafieh has always shown its strength and ability to overcome all its troubles. It has been through wars, conflicts, and tragic events, but has always proven its determination to rise again. Besides, Achrafieh is a district of beauty and vibrancy. All its streets have a unique characteristic that gives the impression of traditional yet developed local Beiruti style. The people of Achrafieh always aim to protect their district and make it stand out among others. No matter what your interests are, you'll find a spot that will satisfy your needs, from historical monuments, to art venues, to cafés and restaurants. With time, Achrafieh became a haven for families who moved out of the BCD to find a more peaceful getaway. As it is mentioned in the monthly Hayek Group Newsletter, "Beirut Real Estatebility – A Metropolitan Exodus", suburbanization is now a global trend that is becoming more and more noticeable in the area. From a real estate point of view, Achrafieh provides the perfect comfort for citizens, with the availability of smaller apartments, which are relatively close to all necessary amenities, a less costly way of living, and a safer environment. With all the ongoing crises in the country, the numbers shown in this report reveal a promising growth. The district is constantly encouraging local and regional investors to put their trust in Achrafieh, which brings us one step closer to achieving our main goal: reviving our beloved country and all its districts.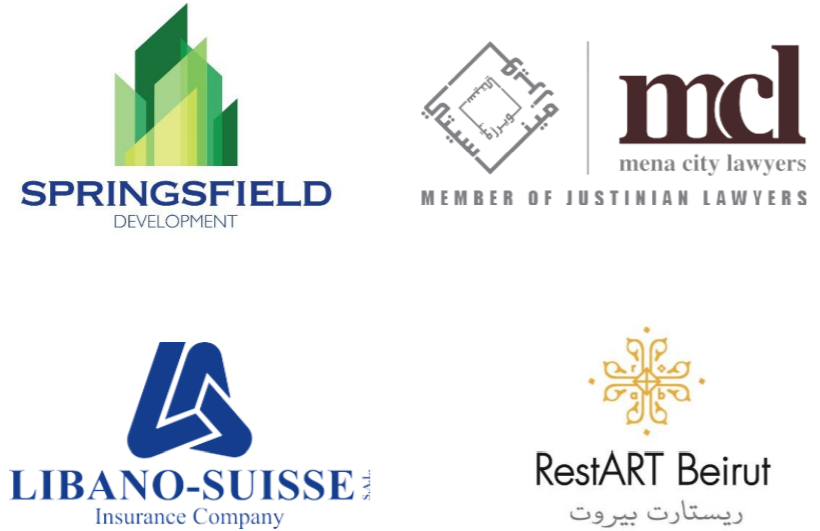 Wiley, M. W. (2020, January 6). Fugitive former Nissan CEO Carlos Ghosn is holed up in a blush-colored mansion in one of Beirut's most expensive districts after his "easy" escape from Japan, according to reports. Here's what Achrafieh is like. Business Insider.
https://www.businessinsider.com/where-is-former-nissan-ceo-carlos-ghosn-
achrafieh-beirut-lebanon-2020-1
Maksoud, C. F. M. (2020). Lebanon. Britannica
https://www.britannica.com/place/Lebanon/Climate
Obeid, V. O. (2020, December 26). Walking in Achrafieh – Meeting the locals. Spotted byLocals.
https://www.spottedbylocals.com/beirut/walking-in-achrafieh/?cn-reloaded=1
Culture, Economy, Key Dates (Blogs). (2020). Live Achrafieh.
https://www.liveachrafieh.com/
Achrafieh. (2019). Living Lebanon.
https://www.living-lebanon.com/visit-lebanon/beirut/sights-and-activities-beirut/achrafieh-sights
Yassine, H. Y. (2019, December 16). 10+ Most Confusing Traditions and Habits in Lebanese Culture. The 961.
https://www.the961.com/most-confusing-traditions-lebanese-culture/
Discover the Rich History of Beirut's Achrafieh, Badaro, & Hamra Neighborhoods. (2019, November). The Concierge
https://theconciergemagazine.com/destinations/global/lebanon/beirut/articles/
discover-the-rich-history-of-beirut-s-achrafieh-badaro-hamra-neighborhoods/
Sweet, J. S. (2020, October 6). Timeline: History of the Housing Market Over the Last 50. The Simple Dollar.
https://www.thesimpledollar.com/mortgage/history-of-the-housing-market-over-the-last-50-years/
Boudisseau, G. B. (2020, January 16). Investors are turning to the real estate market. Commerce Du Levant.
https://www.lecommercedulevant.com/article/29575-investors-are-turning-to-the-real-estate-market
Hayek, A. (2020, November 24). BEIRUT REAL ESTATEBILITY - A METROPOLITAN EXODUS. Hayek Group Newsletters. Retrieved from
https://www.hayekgroup.com/newsletters
Order of Engineers and Architects. (n.d.).
https://www.oea.org.lb/